Affiliate links may be sprinkled throughout the awesome, free content you see below. I'll receive a small commission if you purchase from my links (at no extra cost to you), which I'll totally blow on awesome things like adding more free content to this website. :)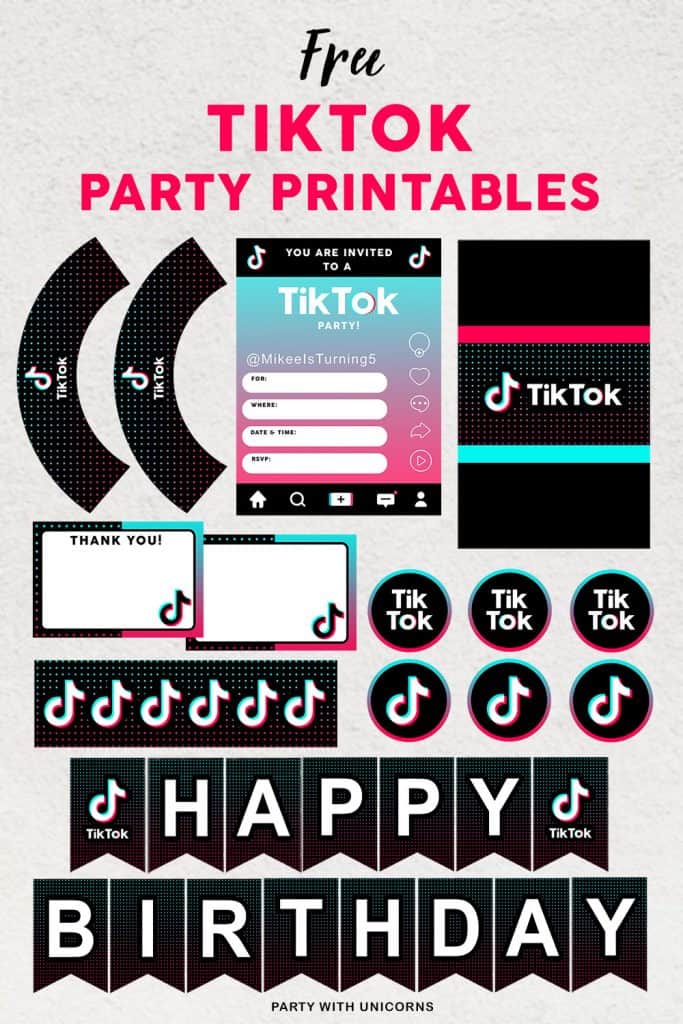 Hello, I am back today with some TikTok Party Printables. From filming your own videos to hosting a battle royale with the latest dance moves on Tiktok, its a super fun party theme for kids (and adults).
TikTok is also an excellent theme for a virtual or zoom party. Get your phone out and make some TikTok videos to share use these printables as your party decorations.
What's Included in the TikTok Party Printables Set?
Today's set of party printables includes:
TikTok Waterbottle Labels / TikTok Napkin Labels
TikTok Birthday Banner
TikTok Cupcake Toppers
TikTok Cupcake Wrappers
TikTok Chocolate Bar Wrappers
TikTok Party Invitations
TikTok Thank-you Cards
The set can be downloaded from the Freebie Shop. By joining our mailing list you will be access to our freebie library and over 150 different party printables and craft templates.
More TikTok Party Supplies
If DIY is not your thing, or you are looking for some additional TikTok party ideas, I have included a list of great Tik Tok Party Supplies below. Follow this list and you'll be ready to throw the birthday boy or girl the most hyped TikTok Birthday Party.
TikTok Party Shopping List
Are you planning a TikTok party? This list of TikTok Party supplies will help you get all of your shopping done in no time!