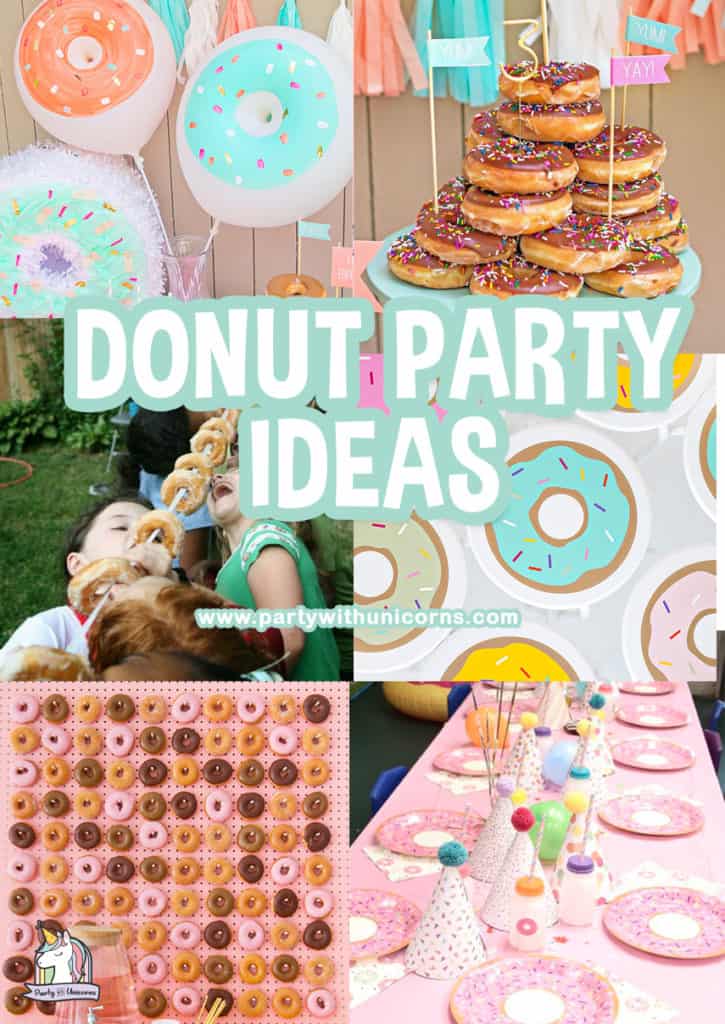 Are you looking for a sweet theme for your child's upcoming party? Well, you're in the right place. This week we are covering the sweet and scrumptious ideas you need to throw a great donut birthday party.
I know that planning a party is tedious work and it can leave even the calmest and most organized parent overwhelmed and exhausted. While Pinterest is amazing and the ideas if provides are out of this world, it has also resulted in a lot of parents feeling like they need to throw a wedding-sized event every year for their child. It shouldn't be this hard! If you are thinking of throwing a donut party, check out the ideas below to have a great event without breaking the bank or your sanity.
Donut Birthday Party Invitations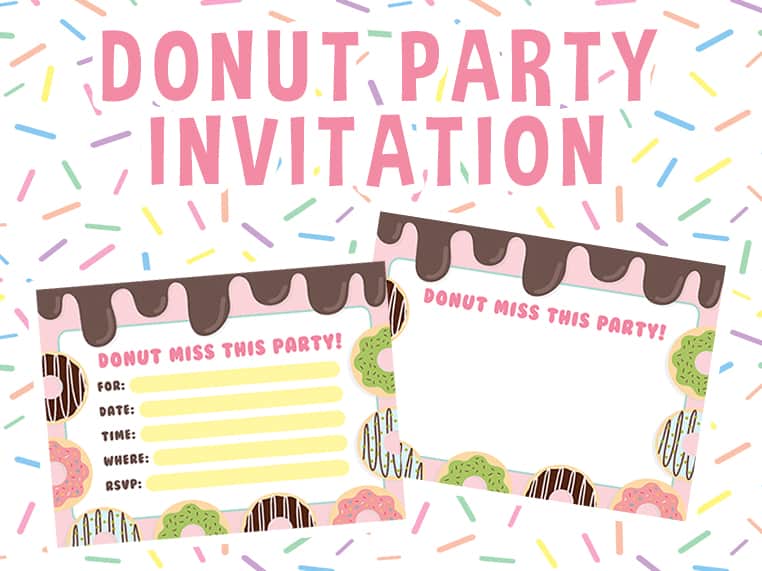 Let's start from one of the basic necessities of a party – a party invitation! Here in Party With Unicorns, we post all sort of free party printables you can use for your child's party and it just so happens that one of this week's free printable a Donut Party Invitation. There are two free templates available, one which you can edit online and one that you can print off and handwrite your party details in the old fashion way.
We also have the options for purchasing an invitation from our shop. For only a few dollars you can download our full template. You can customise the template on your phone and download a PDF or JPEG to use.
Donut Birthday Party Table
One of my favorite things about this theme is that it looks great. Whether you are celebrating a girl who loves pink and sprinkles or a boy that loves chocolate, it always looks great. There are tons of cute themed party supplies that you purchase to make everything look fabulous quick and easily.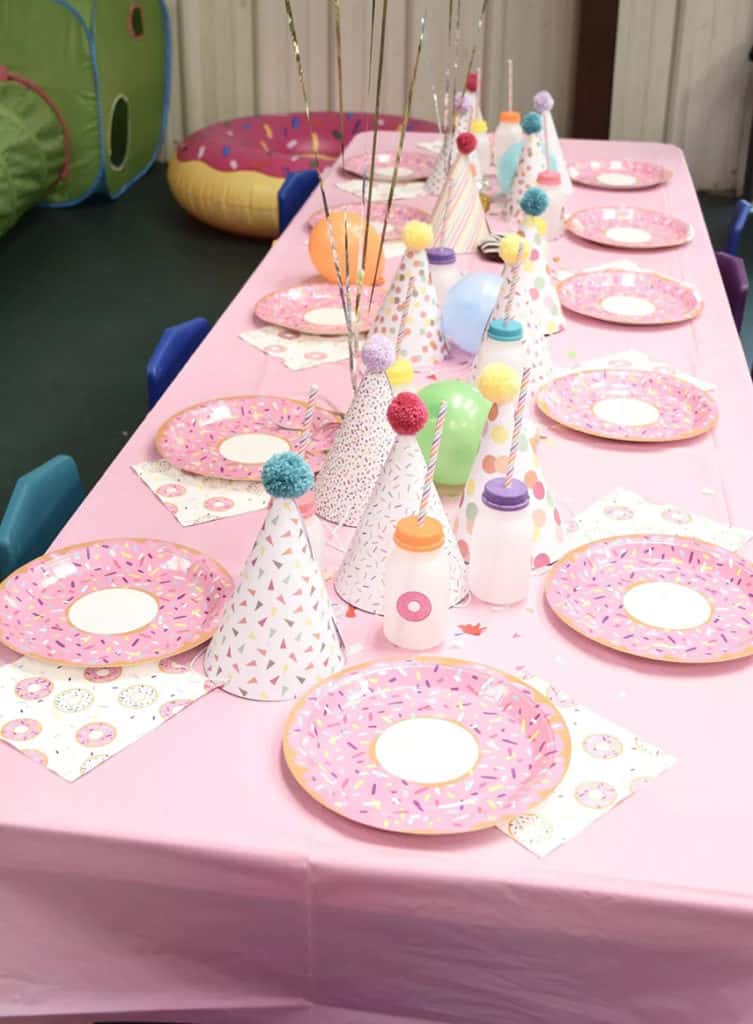 I adore this 1-year-old's party from dearloverly. Check out Christina's full post to see the beautiful event she put on for her daughter.
If you want to put together a cute looking table for your party, there are tons of easily accessible resources available online. The images below are some of my favorites. I've mostly used Amazon for this blog as it is the most accessible retailer for our readers who are located all around the world. Some of these links in this post are affiliate links which mean I may get a small commission if you decide to purchase on these items. Using the link will not cost you anything additions.
To get all of the details on an item, just click on the image
There are literally thousands of listing for donut party tables on Amazon so head over and take a look. You can have your table set up quickly without a big price tag.
Donut Party Hats
You can also add some cute party hats to the guest table. We recently published some free donut printables with two different hat designs that you can use for your party.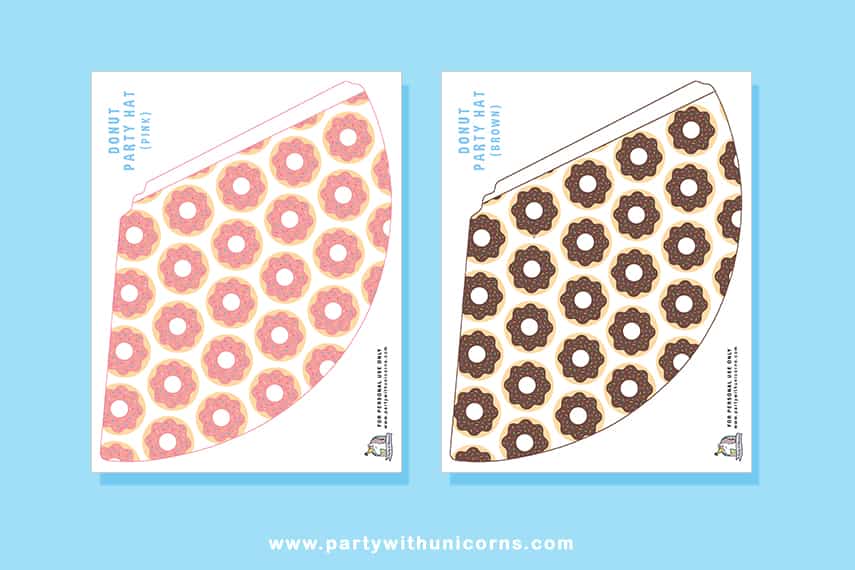 Donut Party Decorations
Party invitations, check! Party table set-up, check! Now it's time for the party decorations! As we all know, every party we are invited to or parties we host on our own, the part decorations really play a big role. It gives a different vibe to the venue and makes it the whole day more festive.
Here in Party with Unicorns, we love anything that gets our creative juices flowing. So when it comes to anything related to art and crafts, we're in! I have compiled a bunch of these do-it-yourself party decorations that you can try with your kids.
Donut Bunting
I will start proceeding off with the free Party with Unicorns Bunting. Super cute and totally free.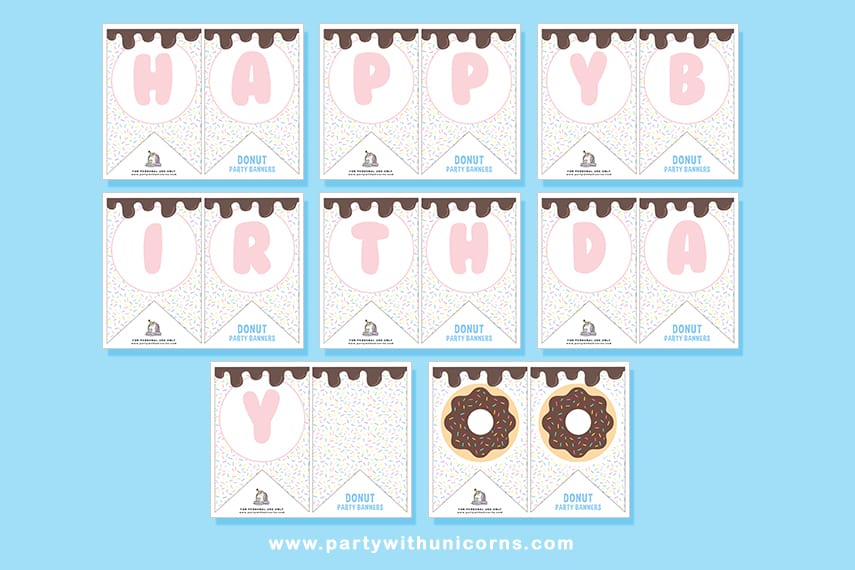 DIY Donut Balloons
First on the list is this super cute DIY Donut Balloons from Fancy That. It's an easy craft project to make that even your kids can help you out in making a bunch of these Donut Balloons. It will perfectly add a cute touch in your Donut Party. You can place it in a vase to put as table centerpiece or stick it in every corner of your venue to add some donut accents.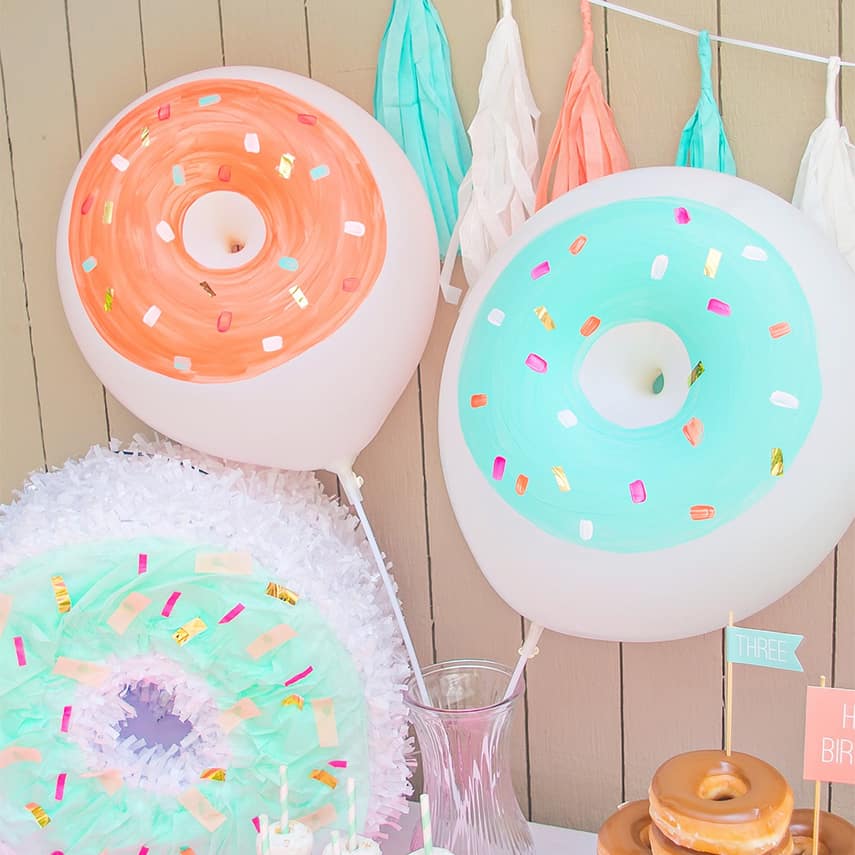 DIY Donut Piñata
Another cute DIY Donut Party Decoration to make is this Donut Piñata by Studio DIY. Believe it or not, but this DIY project is cheap to make. It's time to get those cardboards at your basement and use it to create this colorful Donut Piñata. This piece will surely stand out in your Donut Party and your guests will absolutely love it!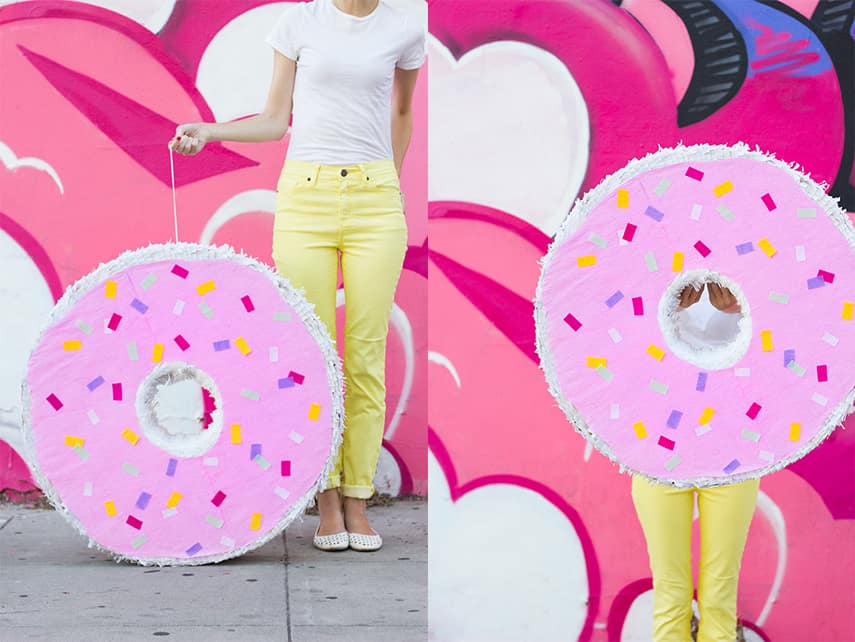 DIY Donut Pegboard
This next DIY decor project may look overwhelming to make but the truth is it easier than you think! Head over to Oh Happy Day to see how you can make one. Add this DIY Pegboard is the perfect way to display yummy donuts at your event. When I first read the post, I could not believe how simple it was to create.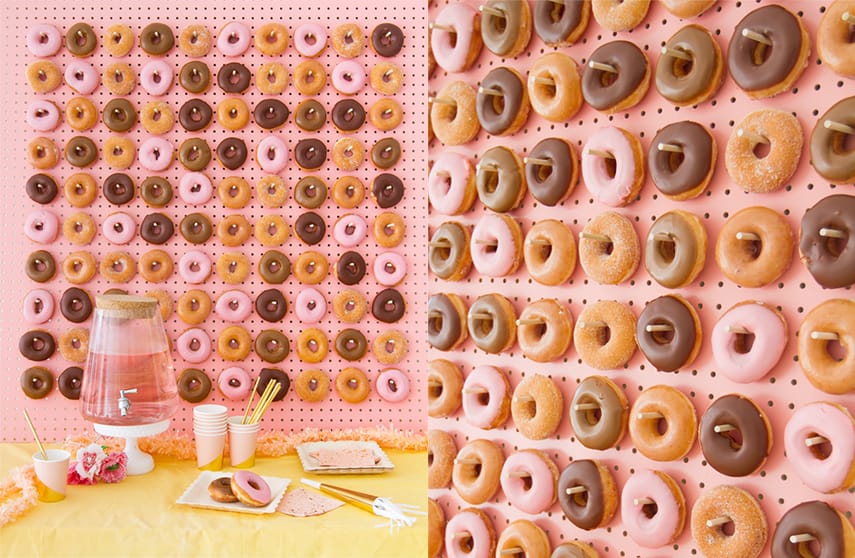 DIY Donut Stool
Another DIY decoration is this cute stool decal. I love this project as the stool can be a happy reminder of your sweet event, long after the day has passed. Visit Studio DIY to get all the details on making these super cute stools.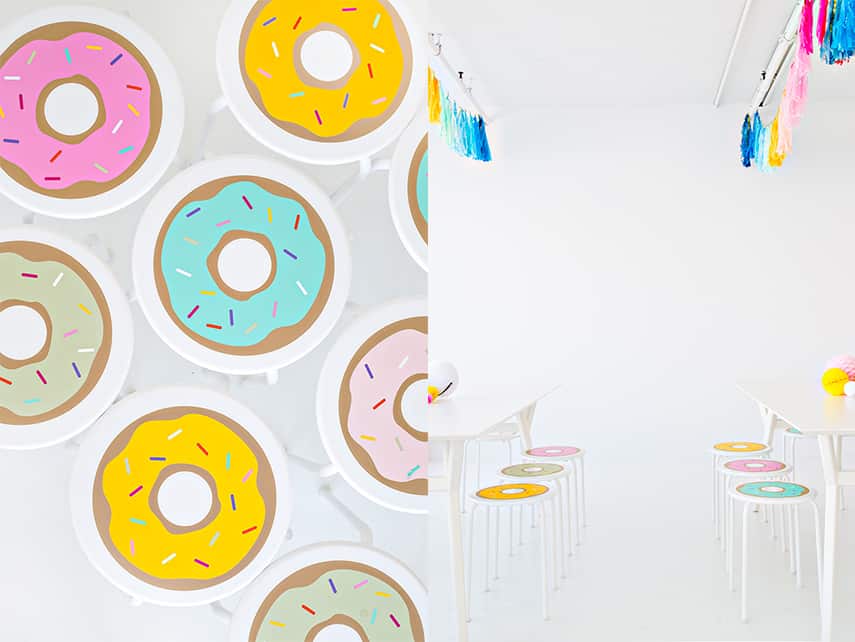 DIY Donut Party Platter
Simple but cute and classy! That's how I describe this next decoration idea. What better way to serve your food than using a Donut platter, right? Just head over to Party HarDIY to get all the details on how you can make this super cute platter. It will be an adorable addition to your party table as a food decoration.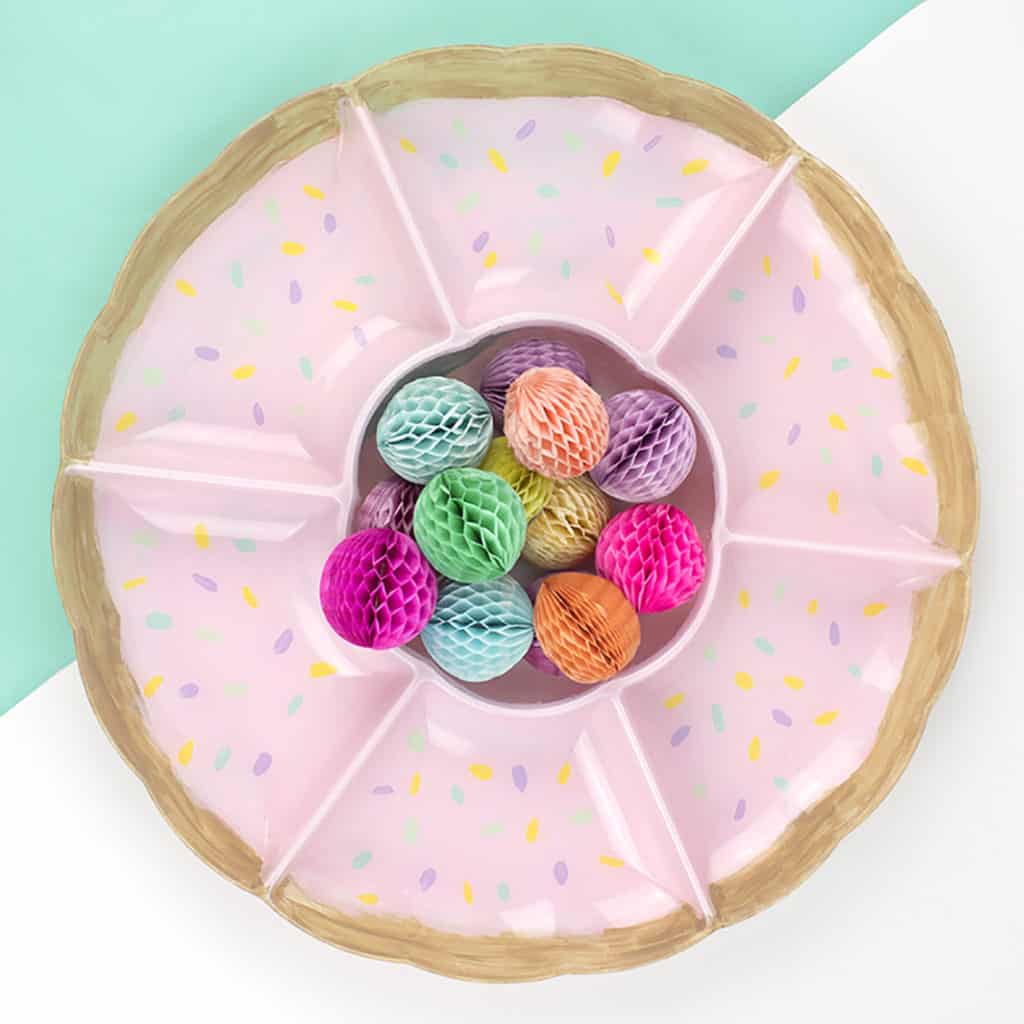 DIY Sprinkle Balloon Backdrop
I have is the easiest DIY decoration ideas for last. This Sprinkle Ballon Backdrop will make a cute addition to your party. It's a simple project but works magic to your guests. I'm pretty sure everybody will love to take a photo of this adorable backdrop. I found this ideas on a couple different sites, so click on the links below to check out the details.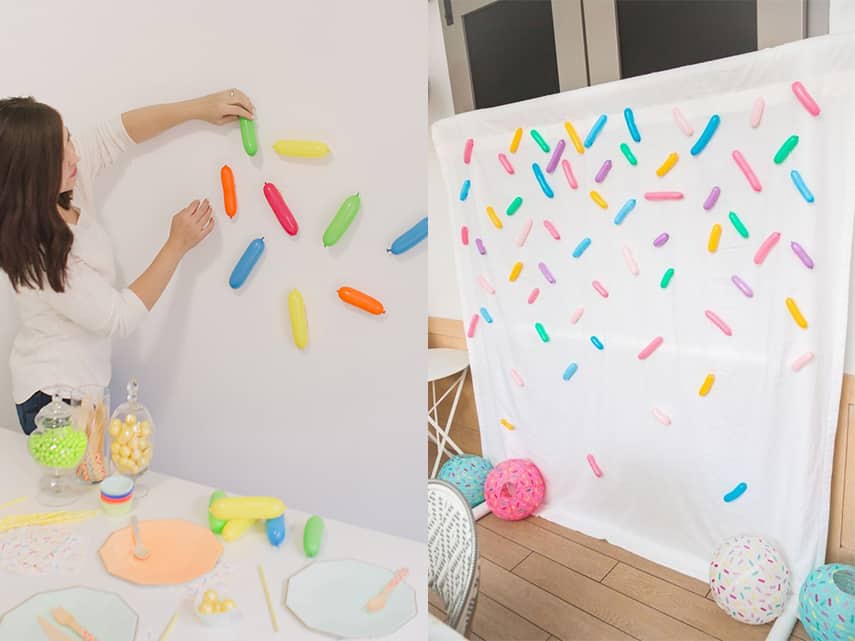 Donut Cake
If you have kids, you probably live by the rule that a party is not complete without a cake (and a roaring rendition of Happy Birthday). One of the great things about the donut party theme is that you can completely forget about the expensive cake. All you need is a yummy mountain of donut goodness instead. Here are some photos for inspiration click on the link below the photo get all the details: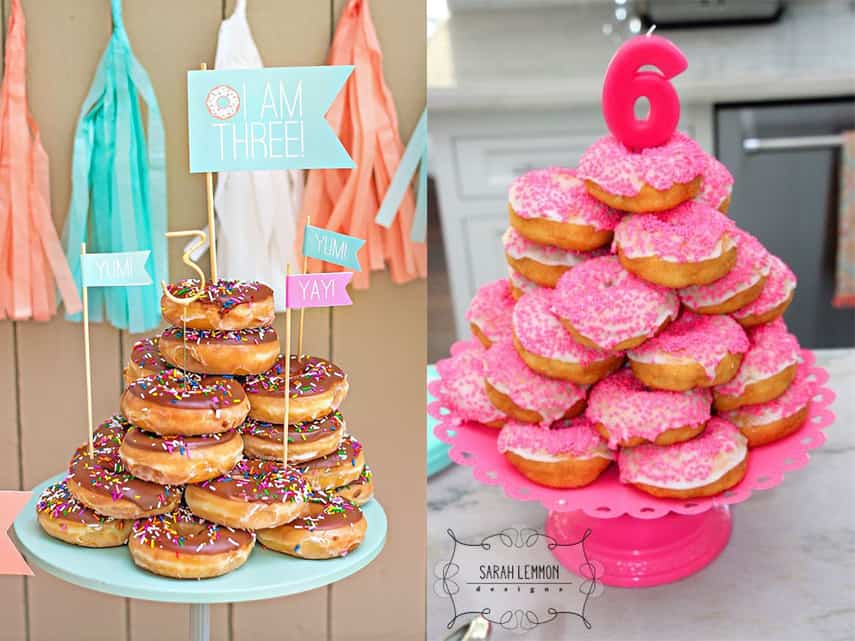 Donut Party Food & Drink
For those of you that follow this blog regularly, you will know that I am not a baker or a chef. Below are some fun food ideas for your party. Click on the link below each image to get all of the details from people much more talented than I will ever be in the food department.
Donut Cookies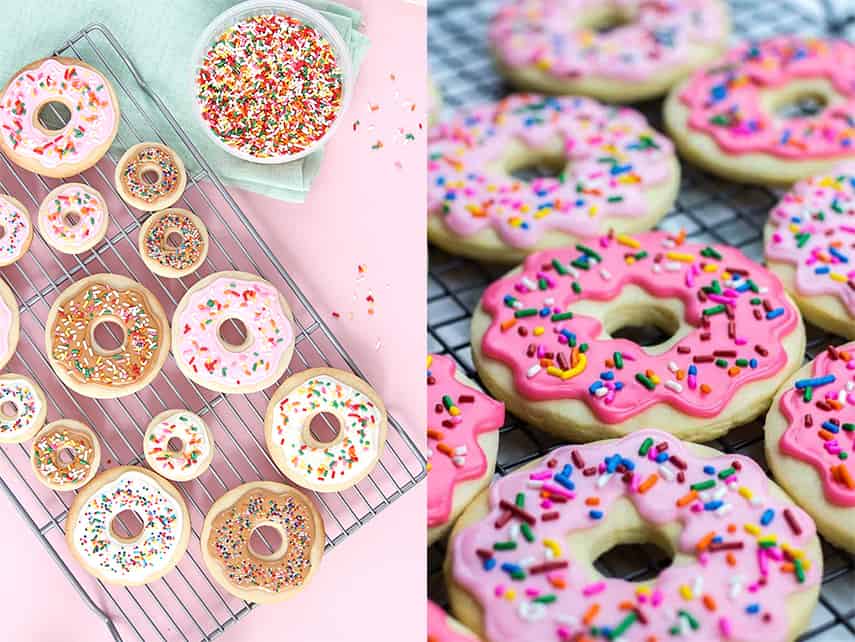 Apple Donuts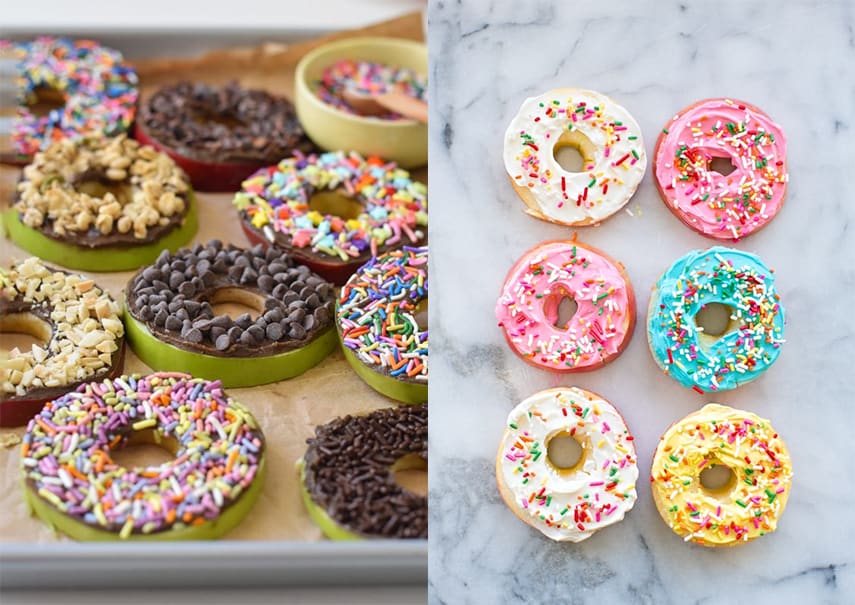 You can also dress up your other desserts by using our free donut printables.
Donut Party Games
What is a party without games and activities? Here are two fun ones you can try our keeping with the donut theme:
Donut String Game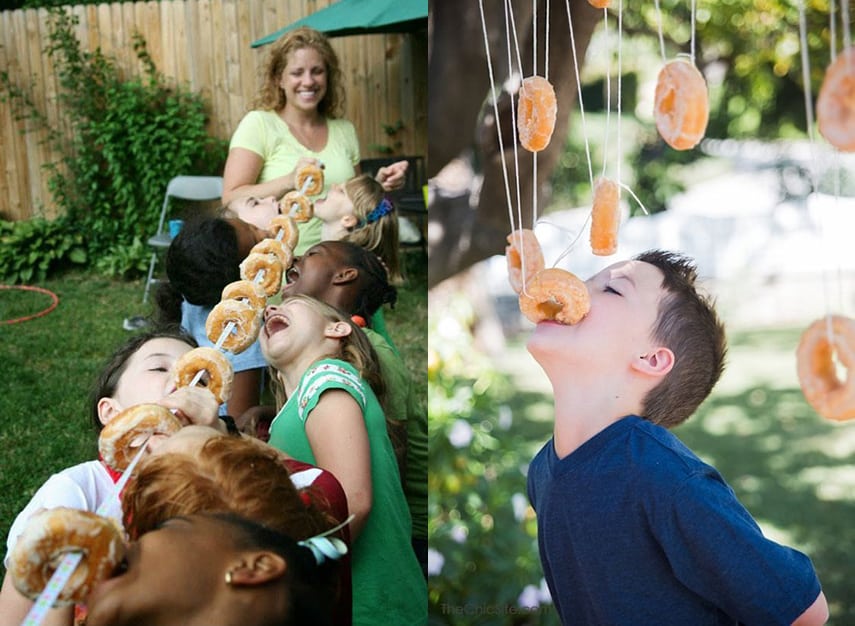 Yum, I don't think I need to say much about these ones. They just look super fun. If you know the owner of the first image, please let me know so I can provide credit, the link on Pinterest was not working! Check out the Chic Site to see all the fun they had with their string game.
Cardboard Donut Ring Toss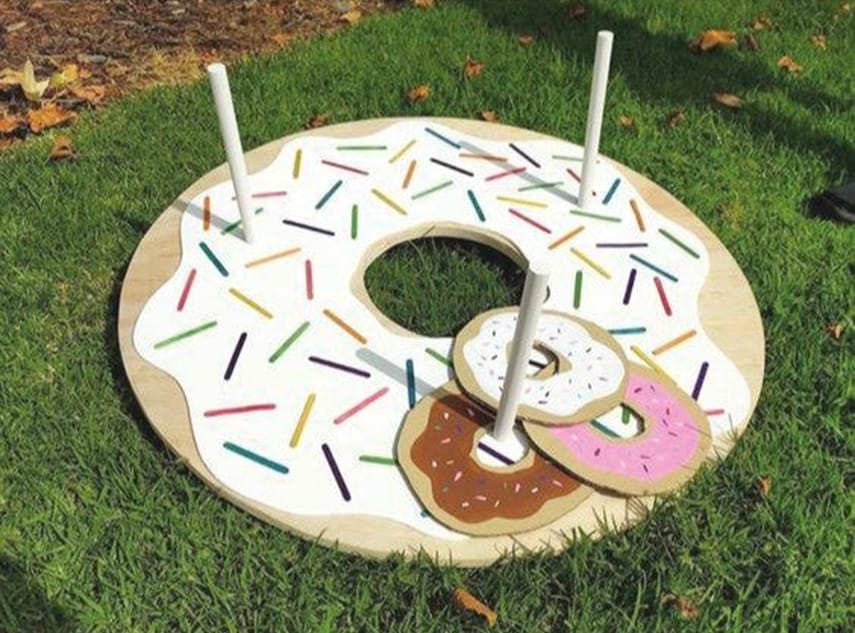 I love this donut ring toss idea. You could even pre-cut cardboard donuts for the party and then each child could decorate their ring they played. Again, if you know the owner of this image, please let me know. I found it in Google but the link was not working. Would love to give credit where credit is due.
Donut Coloring Pages
I always try to have a coloring station set up at parties. This is really for any kids that might be a bit shy and not ready to jump into all of the action right away. If you are interested in setting up a little coloring station, you can use our free donut coloring pages.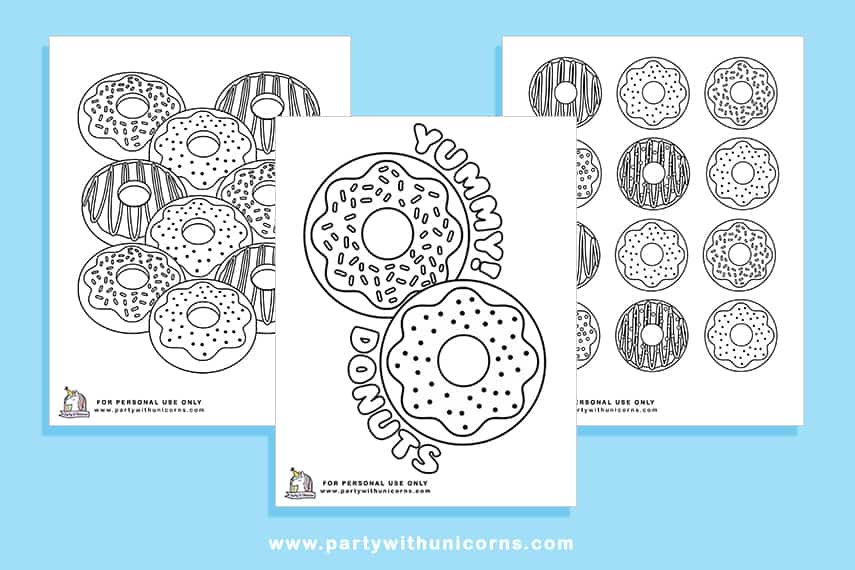 Donut Party Favor Box
We are down with the final touches. Don't forget to prepare take-home gifts for the little guests. You can actually make mini donuts or whatever sweet treats you like and use our Free Donut Favor Box. Here at Party with Unicorns, we believe that there nothing better than a free printable!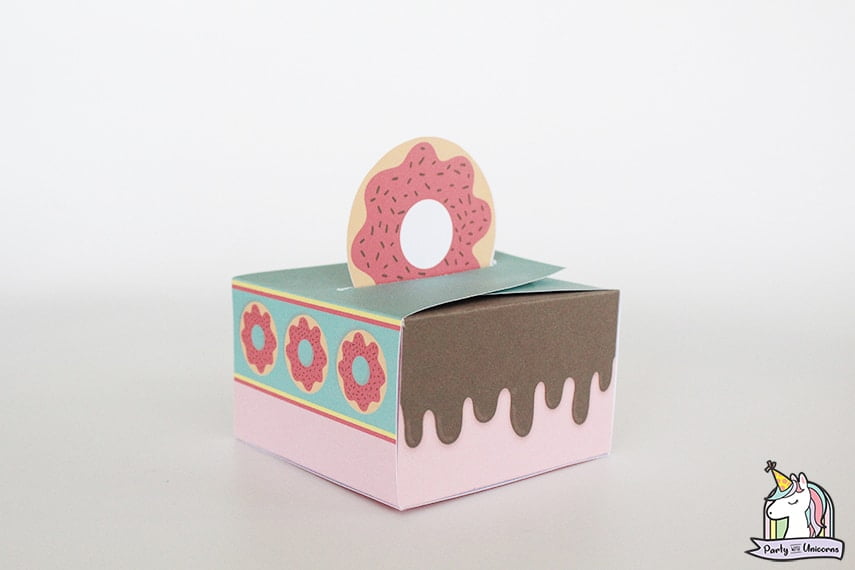 There you have it my list of donut birthday party Ideas! I hope you enjoy reading this list as much as I enjoy putting it together. If you use one or all our free printables, make sure to tag us on Facebook, Instagram, or Pinterest so we can see your fabulous results!

If you have an upcoming event and you are looking for inspiration or help with some printables, please get in touch. We love working with our readers to create memorable days.
Happy planning everyone!