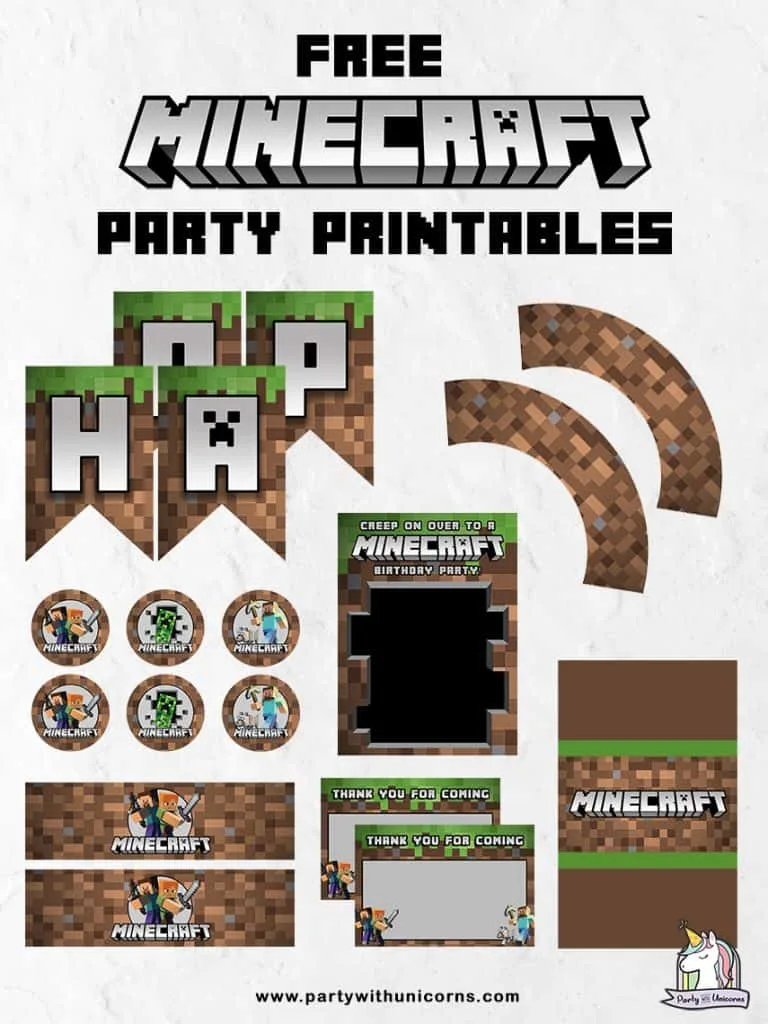 Hello Everyone, we are back today with a free set of Minecraft party printables. I am going to be completely honest and say, I do not know a whole lot about Minecraft. Today's set is for our reader Vanessa whose daughter is having a Minecraft Party in a few weeks. Vanessa emailed me and asked that I create this set for her to use.
Minecraft Party Ideas
Update – Since originally writing this post, my son has gotten into Minecraft in a big way. If you want to throw an epic Minecraft birthday party, check out my list of 15 Cool Minecraft party ideas for your event. This post covers everything from Minecraft cakes, Minecraft party games, Minecraft party food, Minecraft party decorations and more.
The History of Minecraft
Knowing pretty much nothing about Minecraft, I did a little research for this post. I found this "Evolution of Minecraft" video pretty amusing.
Given it was released in 2011, I am sure the games have come a long way since there! Anyway, it was enough information to give me a bit of background and a bit of a laugh.
Free Minecraft Party Printables
So, now that you know the long history of the game, let's get back to business. Here is a list of the Free Party Printables that are included in today's set:
Minecraft Invitations
Minecraft Banner
Minecraft Water bottle labels or napkin labels
Minecraft Cupcake Wrappers and toppers
Minecraft Chocolate Bar Wrappers
Minecraft Thank-you cards
To download the set, click the button below.
If DIY is not your thing, or you are looking for some additional supplies for your celebration, I have included a list of great Minecraft Birthday Party Supplies below. Follow this list and your party planning will be done in no time at all.
Minecraft chocolate bar wrappers
There are many chocolate bars that you can use with these chocolate bar templates. We recommend the following varieties.
Aldi Choceur minibars
HERSHEY'S ® 1.55oz chocolate bar
HERSHEY'S ® 1.55oz Cookies 'n' Creme
NESTLES Crunch ® 1.55oz chocolate
If you need any instructions on how to work with these files, check our Customised Chocolate Bar Wrappers FAQs.
Minecraft Party Favor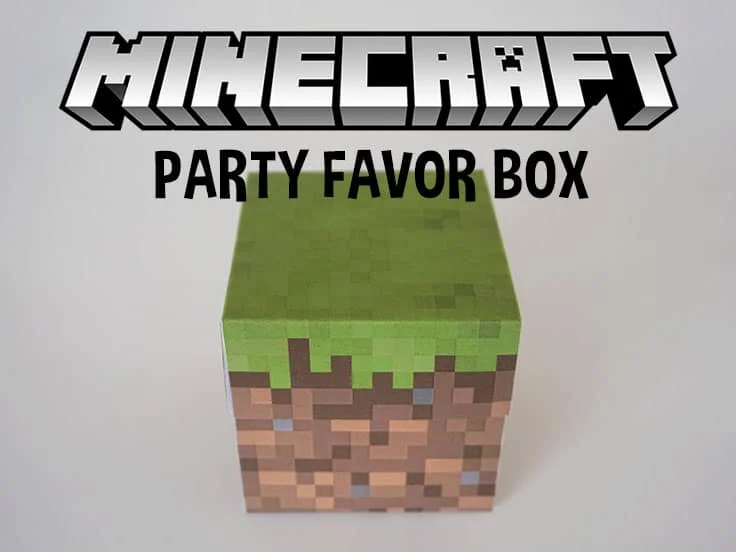 If you are looking for some more fun party supplies, then download this free printable Minecraft favor box. The box is a fun DIY Minecraft papercraft and is a perfect party decoration or a great way to wrap but a small favor instead of the traditional goody bag.
More Party Themes
If your son or daughter is not sold on a Minecraft birthday party yet, then check out some of these popular party themes:
Okay, that is it for me today. I am wishing Vanessa and her daughter an amazing event, I can't wait to see all the pictures. If you are having a party soon and need some themed printables, be sure to get in touch!
Still wondering what do you need to have a Minecraft party?
If you are still not sure what else you need for your party, then check out this easy to follow Minecraft shopping list. Follow this list and you will have everything you need for your event in no time!
Similar Posts: