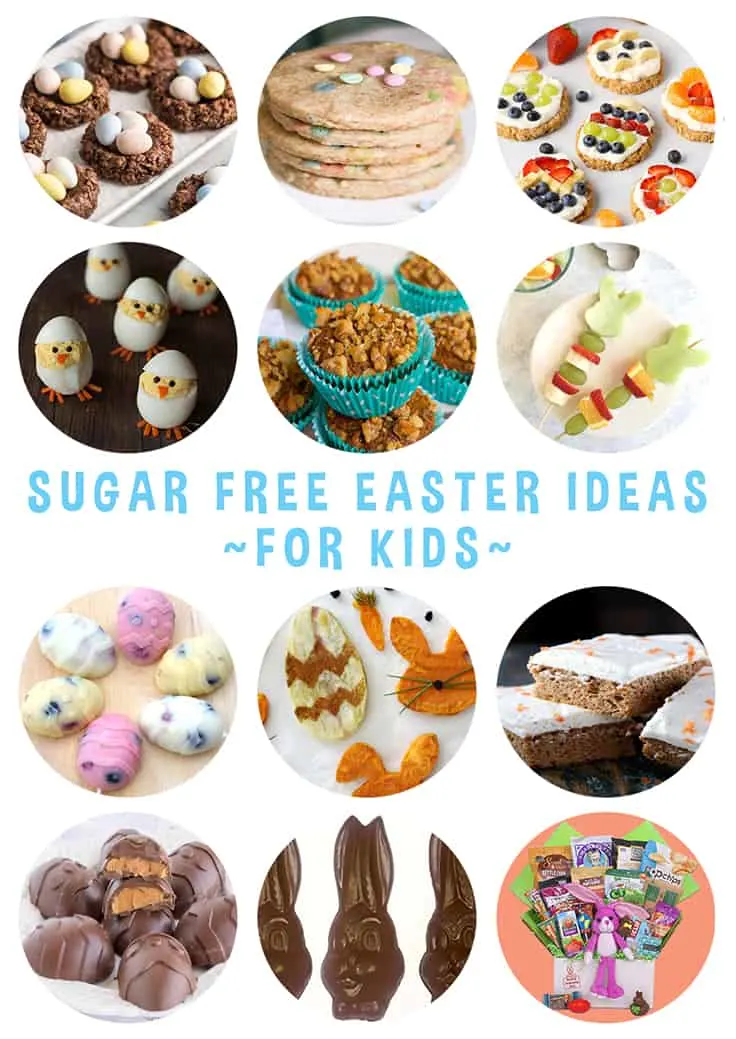 We just bid farewell to the month of February. It's already the third month of the year! Would you believe it? I have this feeling that we just celebrated New Year yesterday and now it's March already. I've been posting a lot of Easter crafts and printables lately, but I know that the Easter season will not be complete without treats or snacks for the kids. Last year we went a little overboard with sugar and I am determined to cut back on it this year. I've compiled a list of sugar-free Easter recipes that you can check out (and a few Easter treats to buy). These all look so good, I am sure the kids won't miss the sugar at all!
Note – many of these recipes are decorated with little easter eggs and treats which are not sugar-free. if you want your decorations to be sugar free maybe purchase some Sugar Free Peeps or Sugar Free Jelly Bellys.
So here are 12 Sugar-Free Easter snack and treats ideas for kids:
Easter Nest Cookies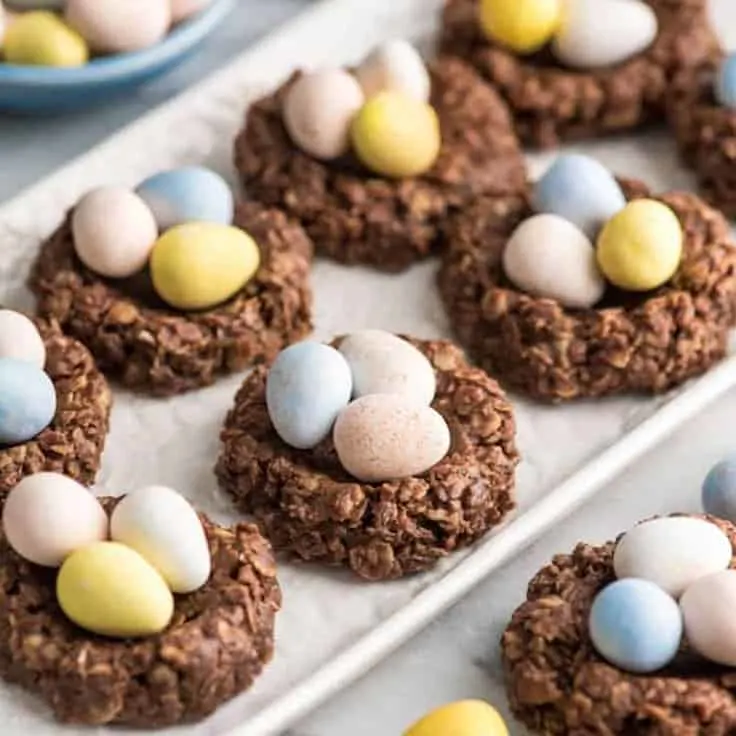 First on the list is this Easter Nest Cookies that your kids will surely love. Based on the look of it, I'm pretty sure that it tastes good and also looks cute when served to your family. You can make this Easter Nest Cookies by following the recipes at Joy Food Sunshine. It is a healthy no-bake chocolate peanut butter cookies that you can create within 15 minutes only. You can also invite your kids to make this with you. This treat will absolutely stun your Easter celebration.
Easter Crunchy Walnut Topped Carrot Cake Muffins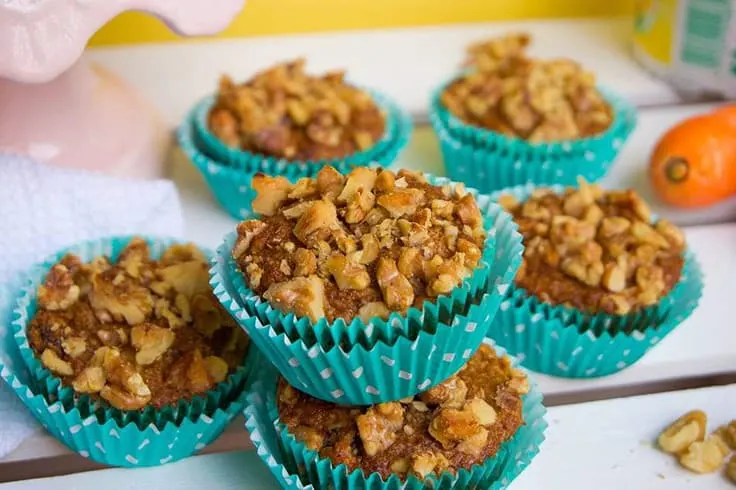 Moving on to our second treat on the list is this Easter Crunchy Walnut Topped Carrot Cake Muffins by Primal Cure. Forget about your classic carrot cake muffins recipe for this Easter season and try out this recipe with a twist! Your kids will love this muffin recipe although it is sugar-free. This will also serve as a good treat not just for the kids but also for the adult in the family that has a special diet since it is grain free and low carb as well. Looks like a perfect recipe for the whole family!
Easter Fruit Kabobs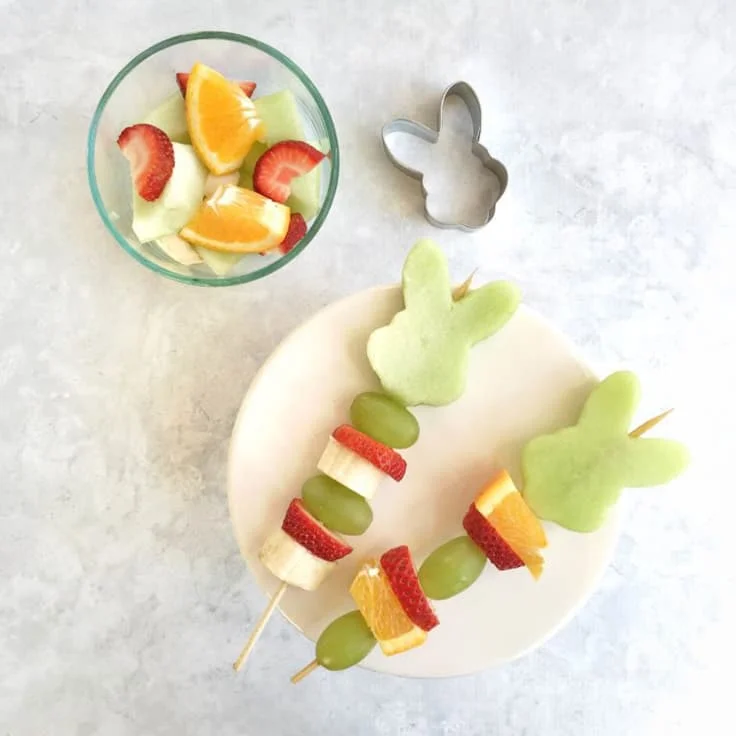 Next on the list will be a perfect Easter snack for families who do not have an oven or they do not have the luxury of time to bake. This Easter Fruit Kabobs by Mom Life Must Haves is an easy go-to snack that only needs three steps to make: cut, thread, and serve! You can also include a side dip like nut butter or whipped cream when serving it to your kids. Such a perfect combination!
Easter Hatching Chick Deviled Eggs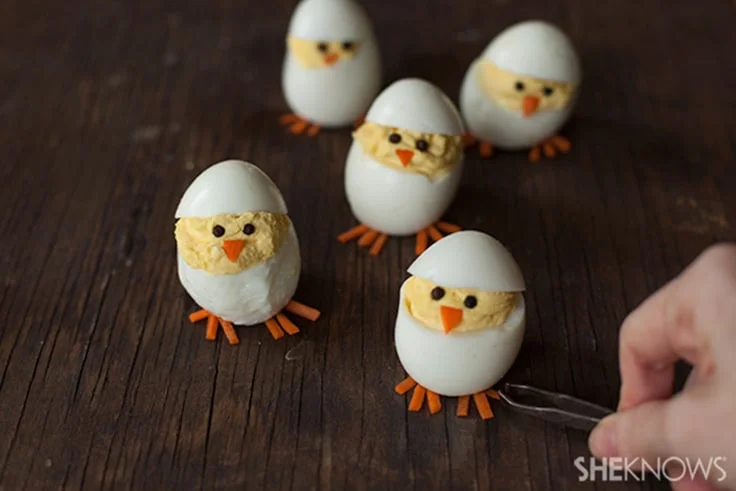 This next sugar-free Easter recipe idea is perfect for people who love deviled eggs! Check out this cute recipe from She Knows and make your own Easter Hatching Chick Deviled Eggs. It is super easy to make and a cute dish to serve to your kids or guests during the Easter season. You can even create a bunny design or an Easter egg design out of this recipe. Just let your creativity flow!
Sweet Potato Easter Eggs & Bunnies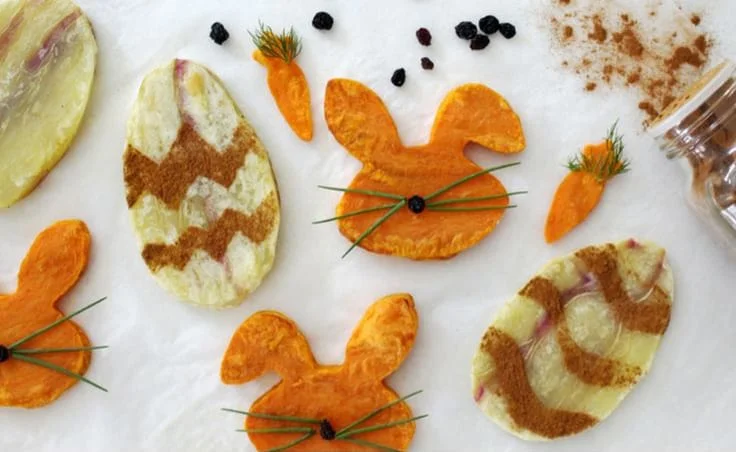 Another sugar-free Easter recipe that you can try this Easter season is this Sweet Potato Easter Eggs and Bunnies by SoleFire Wellness. It is a healthy snack to make for your kids without buying and using any fancy ingredients. The kids can even help you when cutting the sweet potatoes with cookie cutters. It is a fun way to spend some quality time this Easter. This Sweet Potato Easter Eggs & Bunnies is a delicious and adorable sugar-free Easter recipe that you need to try!
Easter Egg Popsicles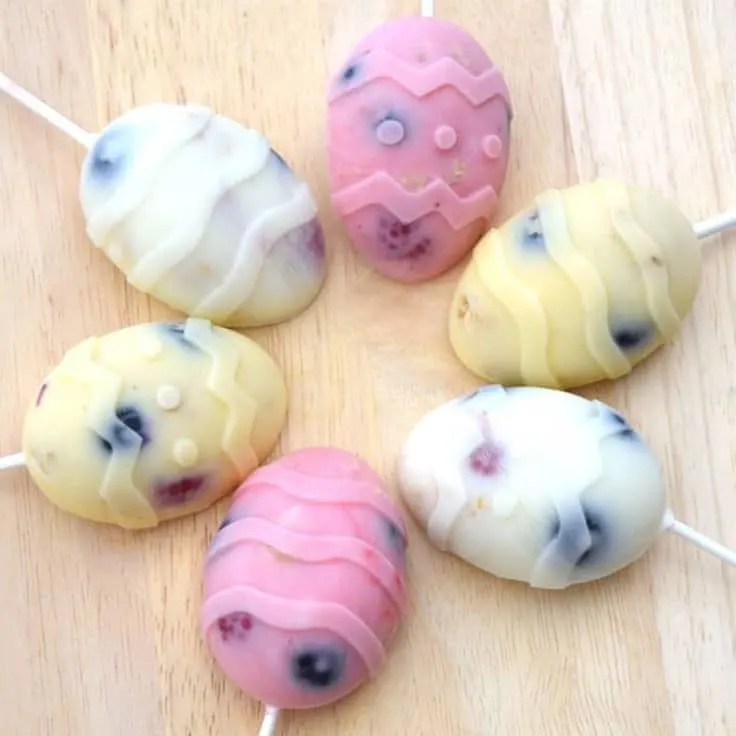 Our next sugar-free Easter recipe is a good alternative from Easter chocolate that your kids probably overeating during Easter season. This recipe is super easy to make that your kids can even do it by themselves. It is also cute and not to mention that I super love the pastel colors of the yogurts used on this recipe. Check out Eats Amazing to see the full recipe of Easter Eggs Popsicles. You can also use other silicone molds (like bunnies, chicks, or anything Easter related) to have a variety of designs.
Easter Carrot Cake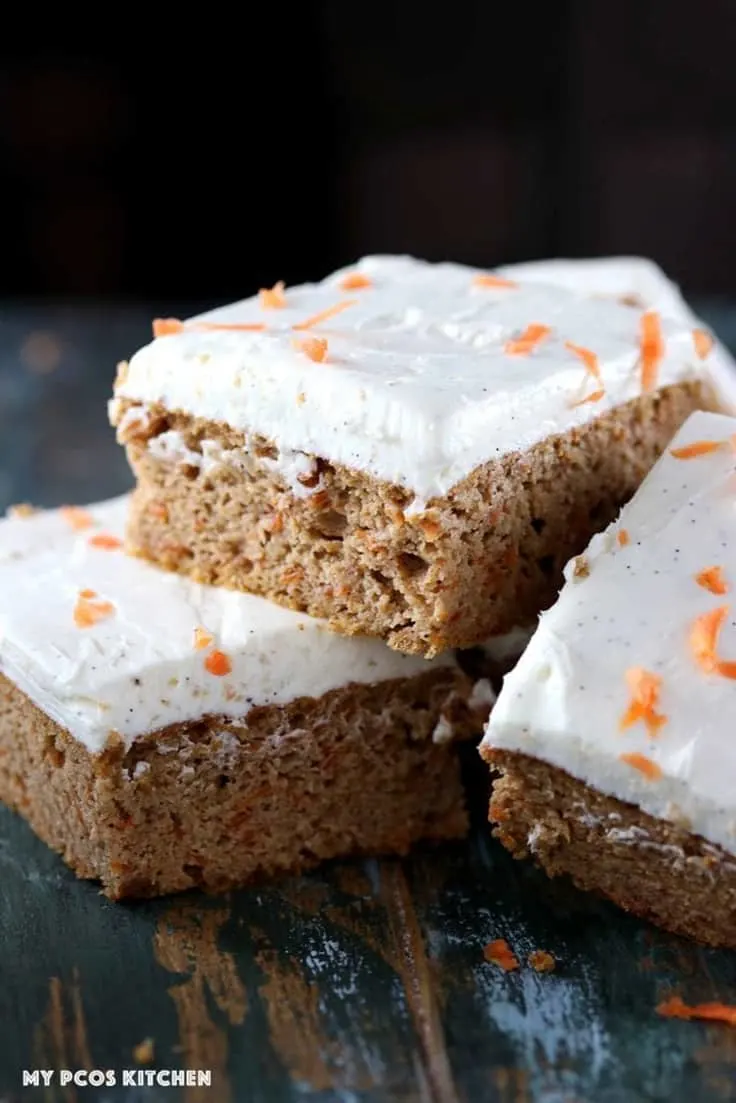 Next on the list is an Easter recipe that needs an oven and a few baking skills. This sugar-free Easter Carrot Cake by My PCOS Kitchen is a delicious treat that is healthy and will surely impress you and your kid's palate. You can even send this Easter Carrot Cake to your friends and families. You can also use this recipe to create a Birthday Carrot Cake for your kids!
Healthy Easter Funfetti Shortbread Cookies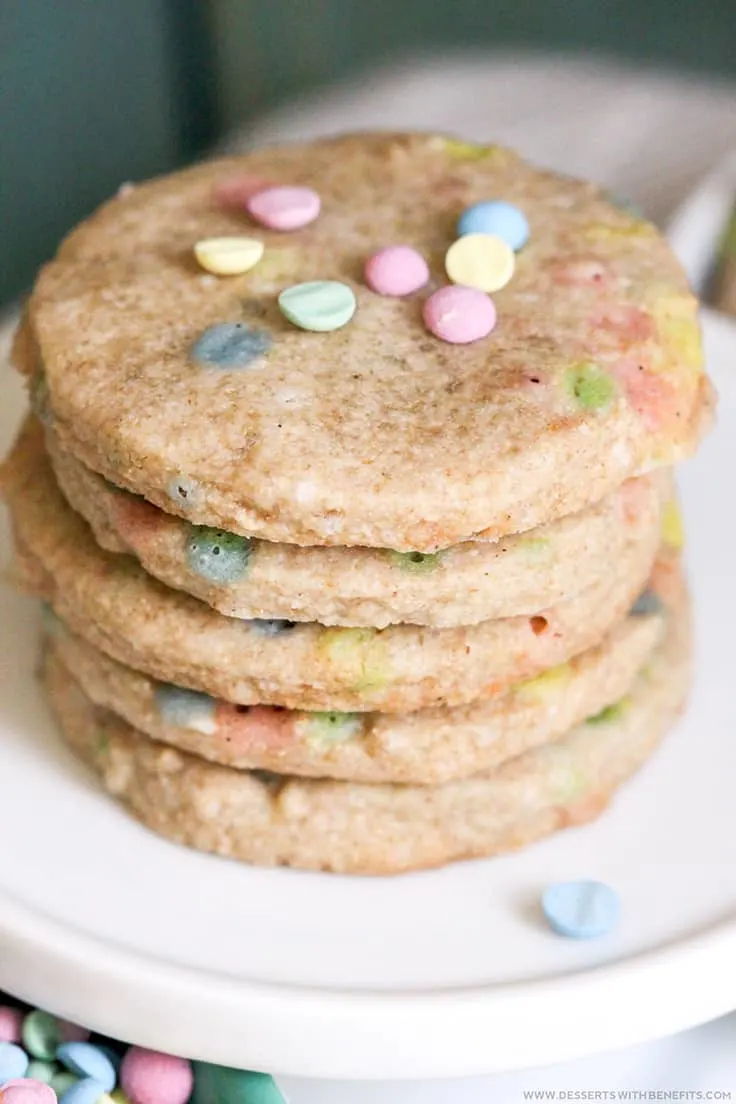 Another recipe that needs baking but is yummy and cute to look at is this Healthy Easter Funfetti Shortbread Cookies by Desserts with Benefits. It has a festive look that is perfect for the Easter season.
No-Bake Easter Eggs Fruit Tarts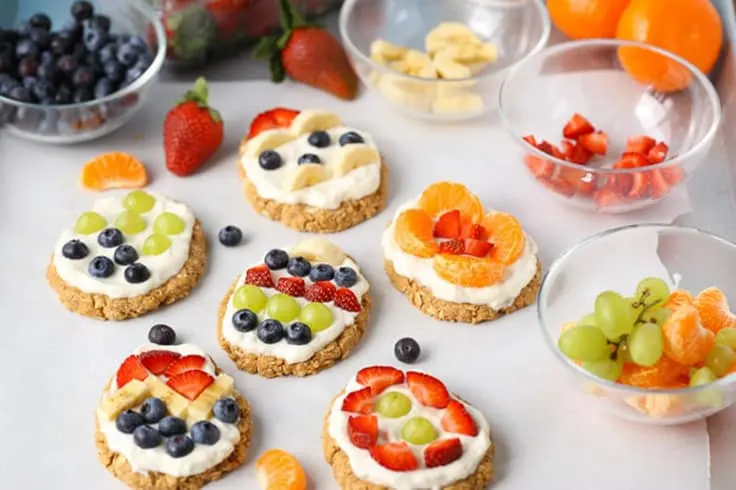 To be fair with mommies that do not own an oven at home here is another healthy and sugar-free Easter recipe to try without baking! So this No-bake Easter Eggs Fruit Tarts by Super Healthy Kids is a must try for me because it is easy to make and my kids can help me decorate and prepare this treat on Easter. You can use whatever fruits available in your area and you can even make this fruit tarts even if it is not the Easter season anymore.
Sugar-Free Chocolate Peanut Butter Easter Eggs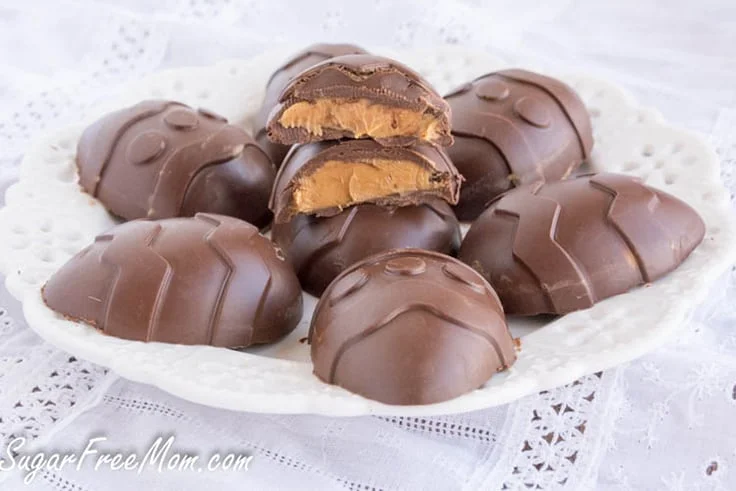 If you are one of those moms who LOVE chocolates as much as your kids and does not want to detach chocolates from Easter, then this next recipe on the list is perfect for you! Although this is a sugar-free alternative from your usual chocolate Easter treats, remember that this is not an everyday indulgence. To make this Sugar-free Chocolate Peanut Butter Easter Eggs, follow the recipe on Sugar-Free Mom.
So that's all in my list for Sugar-Free Easter Ideas you can try this Easter season. We still got a lot of time to buy ingredients and supplies to try these recipes out and to make this Easter celebration fun and memorable for our families.
If you are looking for some cute DIY ideas for Easter, be sure to check out our Unicorn Easter Basket or Easter Gift Bags. We also have some cute Easter Egg Hunt signs available for download.
Similar Posts: