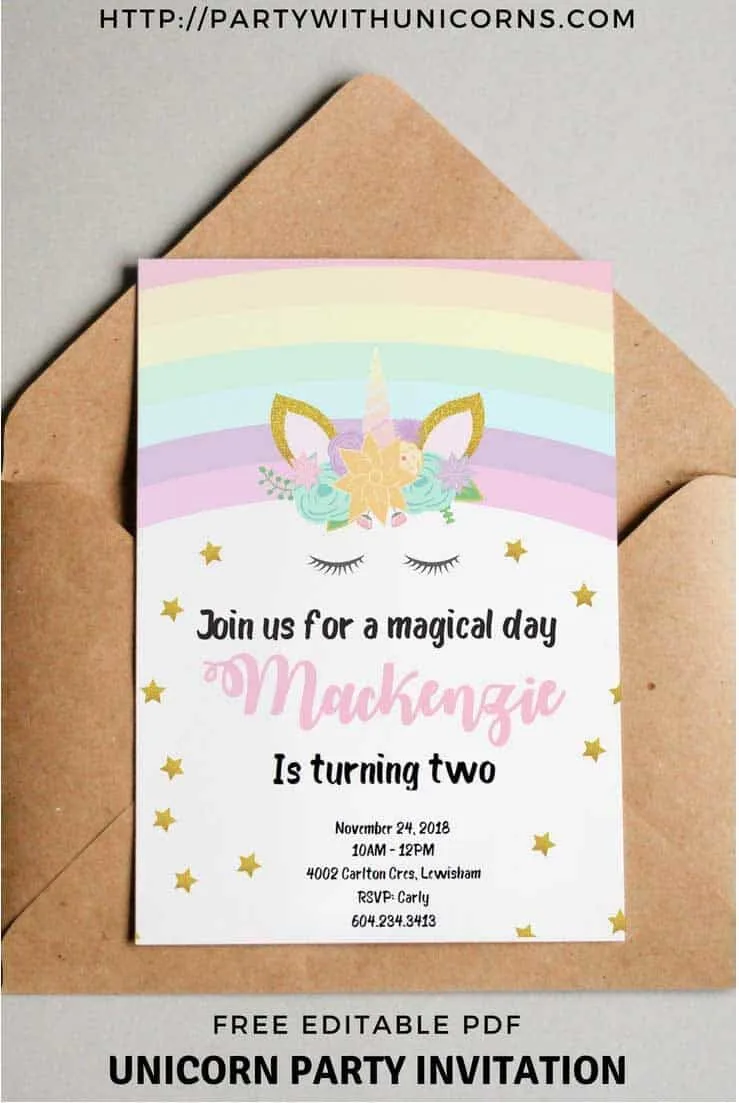 Are you planning a unicorn birthday party? Looking for free Unicorn Party invitations to print? We have you covered. Below is a list of our Free Unicorn Birthday Party Invitation templates that are super cute and easy to use. I know everyone has different levels of comfort working with digital templates so I have added a couple of different unicorn templates for you to try.
Rainbow Unicorn Invitation Templates
The first template is our Rainbow Unicorn Invitation. There are two versions of this invitation available as outlined below:
Editable Unicorn Birthday Invitations Templates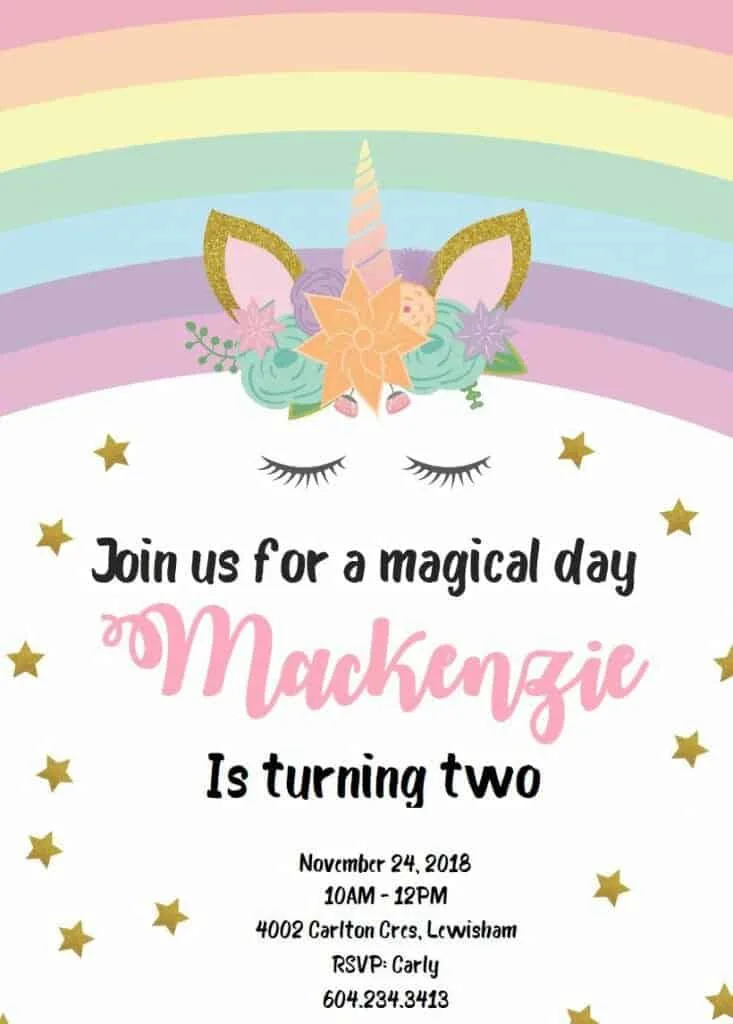 Download the invitation template to your computer and edit it in Adobe Reader or Adobe Acrobat. If you have not used an editable pdf before, you can see the instructions from a previous post here.
If you want your Unicorns invitations to look exactly like the example, you will need to download the Bosk and October Twilight fonts to your computer. Bosk is used for all of the black writing and October Twilight is the font used for the pink name. Both of these fonts are free for personal use. If you do not want to download these fonts, you can just replace with another font already installed on your machine.
Blank Rainbow Unicorn Invitation Template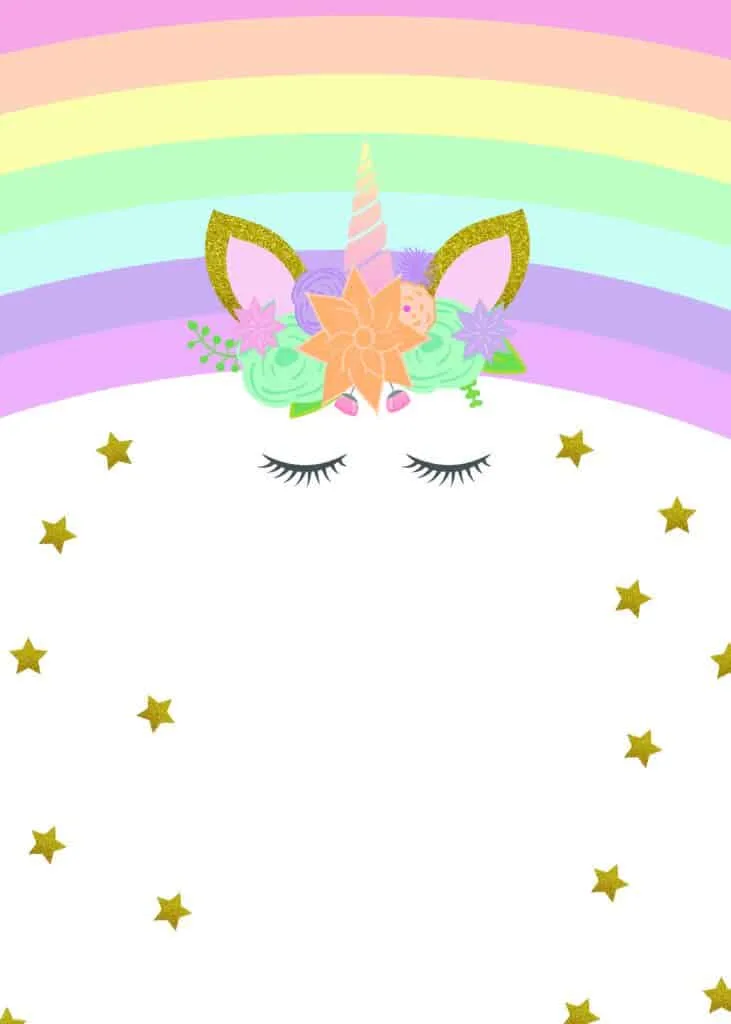 The second invitation template is a blank template that you can download and your own details digitally. Check out my post on customizing invitations online if you need any help. The post will give you all the details you need to turn this empty template into something special for your kid's birthday party.
Fill in the blanks Unicorn Invitation Template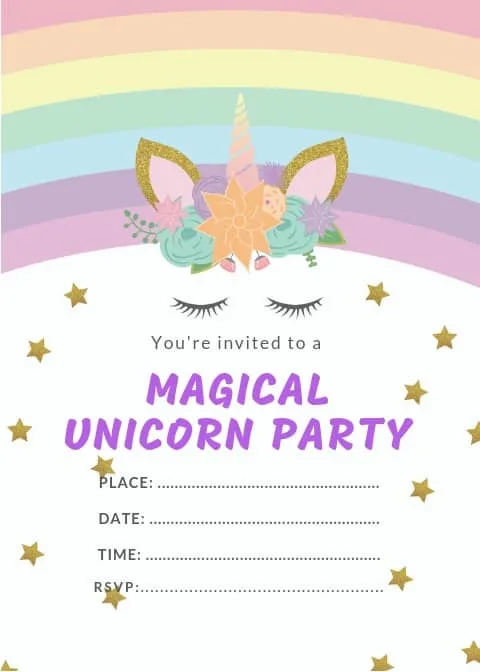 The third Rainbow Unicorn template is the fill in the blank template. Simply download, print and add all of your party details with a good old fashion pen.
Pastel Unicorn invitations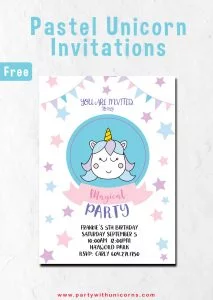 The second invitation available for download is this Pastel Unicorn invitation. As with the invitation above, there are two templates available for download. These include a blank template that you can customize online and one that you can print out and add your details.
Gold Unicorn Birthday Party Invitation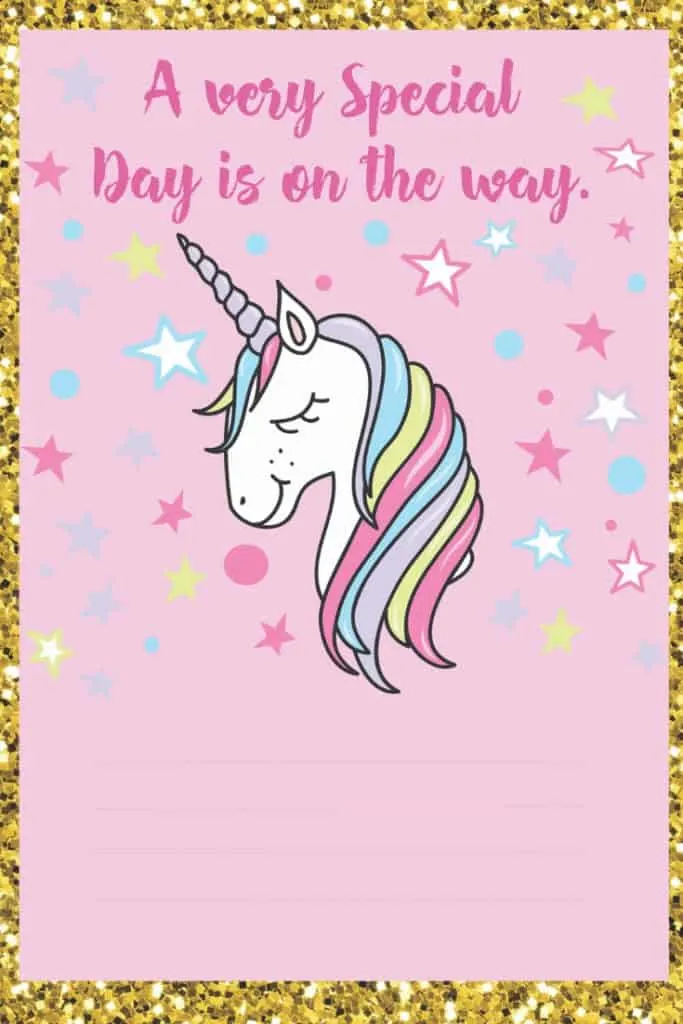 The final Unicorn Birthday invitation that we have available for download is this gold sparkling Unicorn invitation. There is only one version of this template available for download, which is a version you can print and handwrite your details into.
More Unicorn Party Supplies
Now that you have your invitations sorted, check out all of these free Unicorn Party supplies and crafts to help with your event planning.
Unicorn Party Food Ideas
If you need some inspiration for your party menu, check these ideas to find plenty of great unicorn recipes, cakes, and food displays.
Similar Posts: