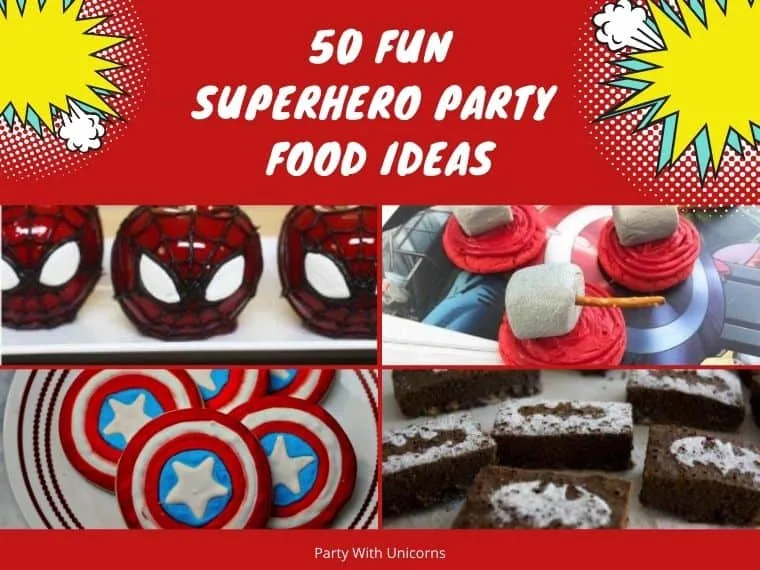 I'm not a baker or a cook, but I know one of the easiest ways to bring a theme to life at a party with the food. Whether it is with simple cupcake toppers or Superhero Food puns on simple cards, there are plenty of fun ways to dress up your snacks to match the party theme. Check out this "super" list of fun Superhero Party food ideas for your event.
Superhero Food Puns
Before I get to the list, I just wanted to talk about the idea of Superhero food puns. Many of the ideas below will jump out at you immediately as representing a superhero, others are a bit more subtle.
If you use superhero color combinations or just a fun superhero food label, you can add your theme to lots of items! Check out these examples:
Bugles – Cat Women Claws
Licorice – Wonder Woman Lassos
Green Jello Cup – Kyroponite
Empty Jug – Invisible water
Chocolate/ vanilla Cookie – Two-Faced Cookies
Swedish Fish – The Penguin Fish Food
Superhero Food Labels
Here are some super cute Superhero Food Label options that you can use to create your labels.
More Superhero Party Supplies
I hope you enjoyed that fun list of Superhero Food ideas. If you are planning a Superhero party be sure to download our free Superhero Party Supplies. Here are some of the most popular:
Similar Posts: