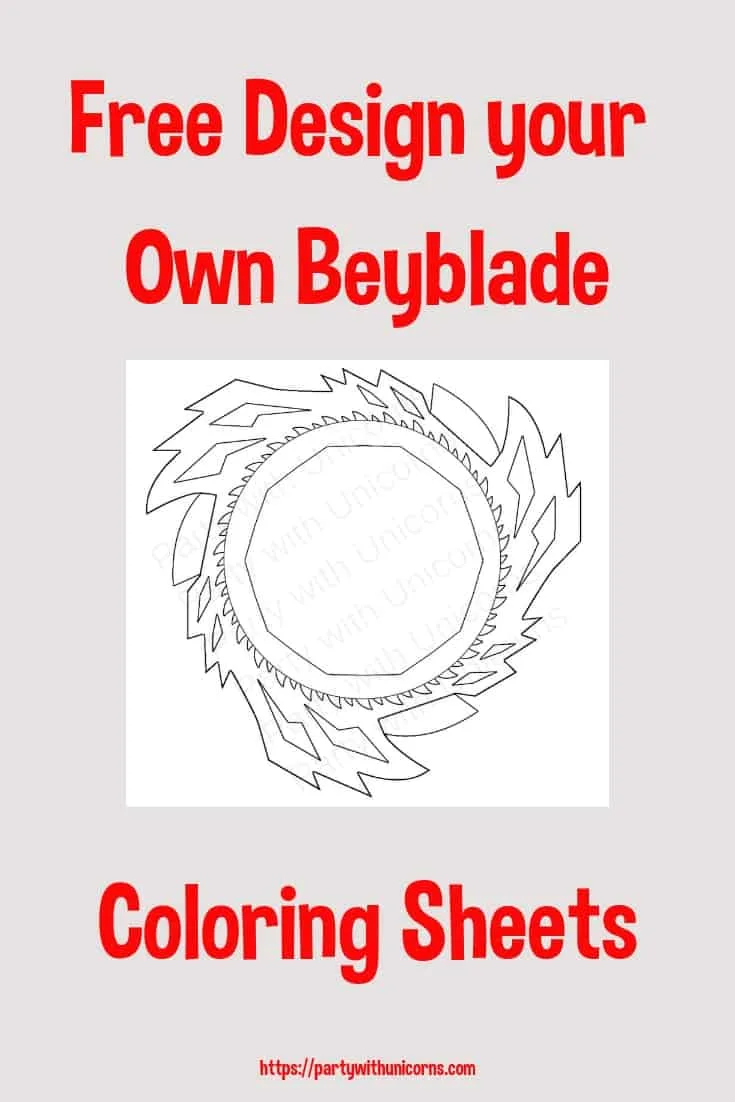 Following up from our Beyblade themed posts from last week, I have another freebie to share with you today. Today I am posting some Beyblade coloring pages. These coloring sheets do not have a detailed Beyblade design in the center, so they are perfect for letting kids use their imagination to design their very own Beys.
Given the number of different Beyblade series there are out these, this means that you can use this Beyblade template for all fans. Your child can decide if these are Beyblade burst evolution coloring pages or masybe Beyblade Metal Fusion coloring pages. Their imagination can run wild as they design their very own Valtryek, Xcalius, Pegasus or or something new. I tested this template with my son and I was so impressed with the creatively he showed in designing and naming his own bey.
Download Beyblade Coloring Pages
You can download Beyblade cloring pages using the button below.
More Fun Beyblade Activities for Kids
Check out these super Beyblade favor boxes. These favor boxes can be created using the free template provided, or you can use the today's Beyblade Coloring page as the top to the box. Once your child is finished designing his Bey on today's sheets, you can cut out the design and attached it to the top of the box template provided. If you are not having a party, these paper beys also make super fun afternoon craft. (Yes, they even spin!). Check out the favor box post to get all of the details on the different sized templates available.
Beyblade Party Supplies
If you are planning a birthday party, then be sure to check out our entire selection of free party printables. We have all sorts of Beyblade materials available for download, including Beyblade Party invitations, Beyblade cake and Beyblade Party printables. The printables include a Beyblade birthday banner and thank you cards. The templates all match and feature Volt Aoi.
If you need some ideas and recommendations for your upcoming party, check out out these amazing Beyblade party ideas and 14 awesome Beyblade Cake ideas. These posts will give you lots of ideas on how to throw a perfect party for your Beyblade fan.
More Printable Coloring Sheets
If your son or daughter loves coloring, you and also check out our section of free coloring sheets. Here you will find coloring pages for all different holidays, seasons and interest. These superhero actions pages are one of our most popular sets.
So that's its for today. I would love to see what sort of beyblade burst evolution Beyblades that your child makes out of today's pages.
Similar Posts: