Free Superhero Printables – Friday Freebie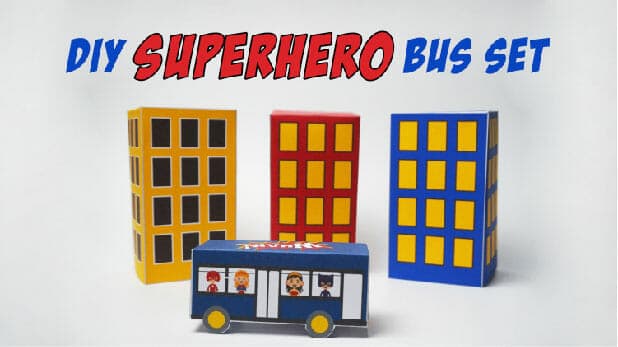 Superhero Printable Bus and City Craft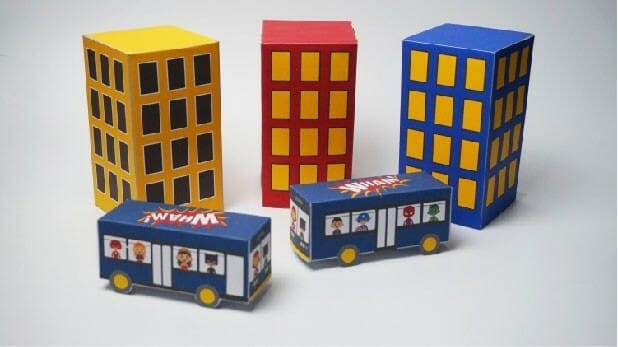 This week's Friday Freebie is a perfect craft for kids. It is all about my son's favourite things: superheroes, cars, and knocking things over! I am sure he is no different than millions of other boys out there, dreaming of being a superhero and fighting supervillains! Given that there is a new Marvel superhero movie released every 2 minutes these days, superheroes are everywhere! This DIY craft all about brings the fun of superheroes into something homemade. Something that the kids will love, but doesn't cost a bomb, and may provide hours of homemade entertainment.  Today's free superhero printables are a bus filled with your little one's favourite superheroes (and driven by Batman) and a set of buildings for your superhero bus to knock down. This is a set that your little hero will surely love. If you're not a crafter, worry not, all of the templates are included for free! All you need is a standard printer, some basic supplies and a little bit of time.
This craft was created using the Superhero clip art set from Creative Fabrica. If you are interested in adding to your superhero city or are having a superhero party want to create some decor the set is available for purchase individually or it is also included in their monthly subscription bundles.  Below the craft instructions, you will find some additional Superhero Party Printables available for download.
Kids can help in making this project but supervision of an adult is important especially when using sharp tools like a cutter.
Ready?  Let's gather the supplies now.
Superhero Printables  – Supplies for Bus and Building Craft

Here is what you will need for this project:
Superhero Bus and building printable templates
Printer
Cardstock (You can print on normal printer paper, but the bus will be flimsy and not great for playing)
Scissors
Glue
Cutter or x-acto knife
Superhero Printables – Superhero Printable Bus Instructions
Step 1: Download and print the free Superhero_bus printable template.

Step 2: Cut out the printable.

Step 3: Cut the wheels out using a cutter or x acto knife. Trace along the red broken lines seen in the picture.

Step 4: Fold the lines.

Step 5: Glue the flaps to form the Bus.

That's it, your bus is now complete! Your finished bus should look like this

Superhero Printables – Printable Buildings Instructions
Step 1:  Download and print the free Superhero buildings printable template
.
Step 2: Cut it out the template

Step 3: Fold the lines on the templates

Step 4: Glue the page 1 and two together. Use page 1 flap to attach to page 2.
The printable should look like this after being glued together.

Step 5: Now glue the flaps together to form a rectangular shape.

That's it, your building is now complete! Your finished building should look like this


Well done, your bus and buildings are ready to go! You may have noticed within the building template there are three different coloured buildings available. You can make a few different buildings colours available to enable you to build a minicity for your child to play with. Kids love buses, and what could be cooler than a bus driven by Batman carrying all of his superhero mates!


I hope you have loved this set as much as I have. I am already thinking of ways to add to the set, maybe a supervillan bus or  cop cars or maybe some different building types? The possibilities are endless.  Let me know in the comments below what additions you would like made to the set. I would love to hear your ideas.  Be sure to sign up to my mailing list to be notified about updates too!
Free Superhero Birthday Printables
I didn't make the bus for a birthday party, but I have been thinking that it could be a super cool superhero birthday party favor box. I was thinking that you could leave the back flap of the bus unglued and maybe add a little piece of ribbon to it so it could be easily pulled in and out. You could also replace the word "Gothem" on the front of the bus with each child's name.
I was also thinking that the set would make some very cute table decorations or accents. What do you think?
Free Superhero Birthday Invitation Printables
In case you do get inspired to use this set at your next party, I created some birthday party invitation templates for you to use with your buses.  To download one of the templates, simply click on the links above the image of the template that you would like to download and the invitations will open in a new window. Right click on the image in the new window and hit "Save As" to choose a location on your computer to save the files.
The first template is this blank Calling all Superheros template which you can edit in Canva to add all of your party details. You can find my instructions for editing invitation templates in Canva here.  Otherwise, you could also add the template as a JPEG in word and type all of your details in a text box on top of the JPEG.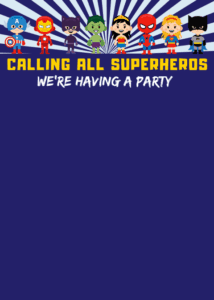 The second template that I have done is the same Calling all Superheros graphic at the top, but boxes for you to handwrite in your party details.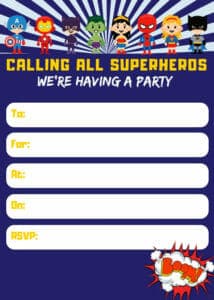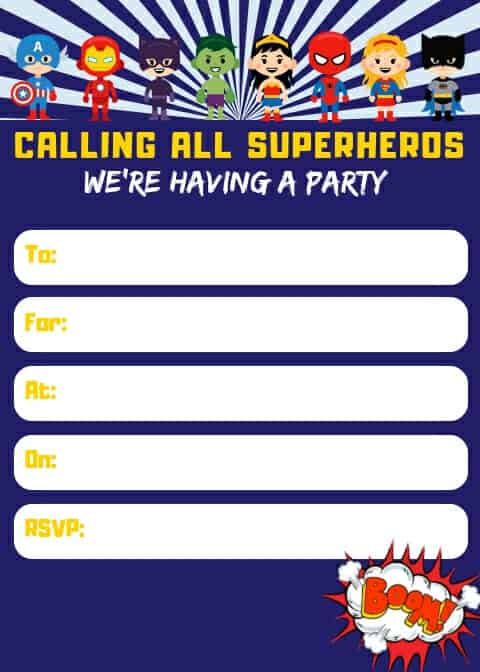 If you wanted to create some additional items for your party, remember you can purchase the Superhero clip art on Creative Fabrica.  You can also check out some of the previous superhero items that I have created including:
Free Superhero Printable Bingo

This is a bit of a random addition to this post, but I made these SuperHero bingo cards ages ago for an old blog. I'm adding them here as I hope that anyone having a superhero party will find them and get an opportunity to use them. We play with them in our house and the kids love them. (If you have made it here by chance from a redirect from my old blog, welcome!) The cards are set up for two per page, so just print and cut them out. There is also a page of symbols for you to cut out and use as the calling cards.
I hope you have enjoyed all of these superhero printables, I'd love to see what you create with the templates, please let me know via the comments below.   Happy Crafting!